About Me And My Love Of

Gardening With Herbs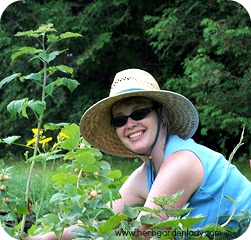 I love herbs and gardening. I've been gardening ever since I was about three years old. My father who's a master gardener and who could make anything grow taught me the love of growing vegetables and what one tiny seed can produce. Amazing!
I learned how to plant, transplant, water, fertilizer, healthy soil, weeding, thinning, mulching, black plastic, insects and most importantly the love of plants and our connection to nature.
Insects, as a kid, I referred to them as, "those awful bugs." One time, when my sister and I were trying to control potatoes bugs, we had to pick them off the plants one by one. I didn't like those bugs at all. Still don't. We took the orange, swishy bugs and made them into a pulp and then reapplied them on the potato plants as an insecticide. Just awful, but that was one of the adventures in Dads' gardening 101 class. I still grow quite a lot of vegetables, but now grow culinary and medicinal herbs for my herb business.
In 2012, I completed the Master Gardening course and do presentations on the use of herbs as tinctures, native herbs of Vermont and write for the Central Vermont Master Gardeners newsletter.
I sell a variety of herb plants at the Farmers Markets, herb & fruit jellies, lavender sugar, lavender sachets and handmade soaps. You'll find these items at the local Farmer's Market in Northfield, Blossom Cottage, Country Cobwebs in Warner, NH, http://www.etsy.com/shop/herbgardenlady and my website you can purchase these handcrafted artisan made products made here in Vermont.
My goals are to educate, inspire, and help you incorporate fresh organic herbs into your cooking for you and your family. At a little healthy zing to every meal!
Happy Herb Gardening!